When it Comes to COVID Leave No Stone Unturned
By Robert Kravitz, President AlturaSolutions
Published: 11/23/2020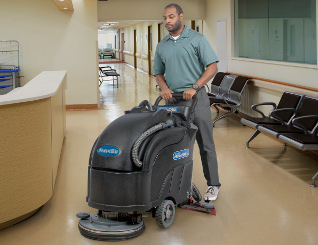 Ever heard the expression "leave no stone unturned"? Apparently, a Greek general back in the 1500s coined the expression as he commanded his troops to leave no stone unturned in his quest to find suspected hidden treasure.

Well, today with the pandemic, that expression is having a revival. We need to leave no stone unturned in our quest to find ways to stop the spread of infection - including coronavirus - in correctional facilities across the country. This is certainly not going to be an easy task.

Correctional facilities are the perfect setting for the virus to spread. Hundreds, if not thousands of people are housed under the same roof, usually sharing the same areas and facilities. No wonder correctional facilities here and around the globe have been releasing inmates early, realizing how difficult it is to contain the virus.

But that does not mean administrators must throw in the towel. No. In fact, there is much we can learn from this virus that will help keep correctional locations healthier and safer once this pandemic has passed, starting with proper mop care.

Yes, you heard that correctly. We've known for decades that mops and mop water can become breeding grounds of pathogens. One of the more recent studies, this one published in Clinical Microbiology Review in 2014, reported the following:

"[The] water used for mop rinsing usually becomes increasingly contaminated during [the mopping] process, especially if used repeatedly without changing or if surfaces are heavily soiled and/or have not been cleaned within the previous 24 hours. "The water then serves as a medium for spreading microbes around the environment."

Further, the study found that while cleaning mops with disinfectants can help minimize the number of pathogens on a mop, this may not be true of all because, "certain organisms can resist the effect of specific chemical agents either naturally, through acquired resistance, or protected by biofilm." In other words, just as humans can become resistant to antibiotics, germs, and bacteria, viruses can become immune to disinfectants.

Oh, and one more thing we should know: the pathogens that cause COVID-19 have been found on shoe bottoms. This means that floors can collect these pathogens, which also means that during the mopping process, these pathogens can transfer to floor mops.

So, what can we do about this? To answer this question, we turn to a cleaning industry veteran, Matt Morrison with Kaivac. This company manufactures equipment designed to help stop the spread of infection:

Wash. Mop heads should be washed after each use in a correctional facility. Because of this, have many mop heads in stock, ready for use.

Vary disinfectants. Because we know the pathogens in mops can become resistant to some disinfectants, change disinfectants regularly. Disinfectants are not all the same. Some are hospital grade, others are broad range disinfectants, able to kill several types of pathogens, and still others are designed to just kill specific pathogens.

N-List disinfectants. The EPA has created a list of disinfectants that have proven their ability to kill the pathogens that cause COVID. Be sure to select one of these many disinfectants to help stop the spread of covid.

Flat mops. Where possible, use flat mops. A traditional "spaghetti" mop can be hard to clean and provides a perfect environment for pathogens. Flat mops are easier to clean and do not provide such a welcoming environment.

Poles and buckets. Usually the bucket is rinsed clean after mopping floors. That is no longer enough. We now need to clean the bucket and then disinfect it, inside and out. Cleaning and disinfecting are two critical steps in a single process. The same process applies to the pole. The mop pole is invariably overlooked when it comes to cleaning, but especially now with COVID, it must be cleaned and disinfected just like the bucket.

Something else we should do is investigate floorcare alternatives. Two that have proven to be the most effective at removing pathogens from floors in most commercial settings are auto-scrubbers and auto-vacs. This is because:
Both eliminate the use of mops.
Both use fresh cleaning solution to clean floors.
Both vacuum up solution and with it, soils, and pathogens in the cleaning process.
Both can clean up to 25,000 square feet per hour.*
Both ensure floors dry very quickly, so areas can be open to foot traffic in seconds.
However, there are differences.

Auto-scrubbers are best for use on exceptionally large floor areas. In some cases, they may be too large to use in smaller areas of the facility. Once trained, workers find them easy to operate. These are costly and complex machines, which means downtime should be expected. However, if properly maintained, they should provide service for several years.

Auto-vacs, on the other hand, are much simpler machines, and because of that, less costly; they require minimal training to use or operate, and downtime is rare. Instead of large floor areas, these machines might be best in kitchens and food service areas, showers and restrooms, hallways, and smaller common areas of a correctional facility.

We should add, and this is especially true today due to the pandemic, that both machines must be cleaned on a regular basis. Manufacturers will provide instructions on how to accomplish this. Especially now, with the virus, keeping these machines clean and healthy is mandatory.

Robert Kravitz is a writer for the professional cleaning and correctional industries. He can be reached at robert.kravitz@outlook.com

*This is dependent on the size of the auto-scrubber.
---