Restoring Voting Rights to Justice-Involved Individuals in Washington state
By Rachel Friderich, Washington Department of Correctoins
Published: 11/04/2019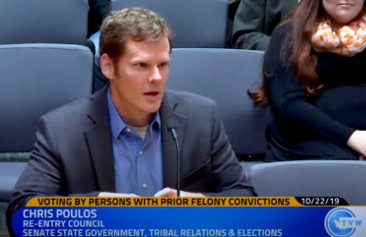 OLYMPIA, Wash.—Connor Barker is looking forward to when he can next cast his ballot. The 26-year-old won't be able to cast his vote on Election Day next week. That's because he's completing his last couple months of community supervision for a drug charge.

But after Dec. 6, he'll be able to make decisions on which local and national candidates he wants to represent him and the laws that impact everyone in the state.

"I just want to feel like a normal citizen again," said Barker, who had been a registered voter since he turned 18 and voted consistently in every election he could until his arrest. "I feel like I've paid my dues, done my time and paid all my fines. I think it's important to be part of the process."

What the Law Says

Washington state law currently allows anyone convicted of a felony to restore their voting rights after they complete Department of Corrections supervision. But the law also says the right to vote is "provisional," meaning a country prosecutor can revoke a person's voting rights if they fail to make payments on legal financial obligations that are part of a sentence. Legal financial obligations, or LFOs, can include fines, fees, victim restitution payments and any accrued interest.

But some lawmakers are looking to change that. Last month, the Senate Government, Tribal and Elections Committee held a work session in Kent on some draft legislation that would drop the provisional LFO rule to restore someone's voting rights completely. It would also allow a person to restore their voting rights as soon as they leave prison. David Elliott, policy director for the Secretary of State's office, spoke at the session Oct. 22 and said he found no evidence of anyone's voting rights ever being denied because of failure to pay LFOs.

If the legislation becomes law, Washington would join 18 other states in which people may vote, as long as they are not in prison, according to the American Civil Liberties Union data. Two states—Maine and Vermont-- grant every person the right to vote, regardless of having any form of correctional supervision. Only three states—Iowa, Kentucky and Virginia—permanently bar people with criminal convictions from voting. The rest of the states have a wide range of laws about restoring voting rights to people with criminal convictions.

The 'Scarlet Letter'

Executive Director of the state's Reentry Council Christopher Poulos, also spoke at the work session in favor of the draft legislation. The reentry council has 15 members who represent a variety of organizations and constituents. It works to improve public safety and outcomes for justice-involved individuals reentering society.

Poulos shared his story about spending three years in a federal prison for a drug conviction before becoming an attorney.

He said the threat of losing one's voting rights because of unpaid LFOS doesn't deter people from committing a crime. Instead, he called it the "scarlet letter of collateral cause."

"Just because a judge may have given three years in prison and a $3,000 fine, it shouldn't be able to haunt us for the rest of our lives," Poulos said. "The only thing it does is it further separates people from society. Being engaged in a positive way in our communities is incredibly conducive to successful reintegration after incarceration."

DOC's Role

The Department of Corrections has already taken steps to help people completing their supervision get registered to vote. Senate Bill 5207, which went into effect this year, requires correctional staff to provide written notice to every individual coming off supervision about the process for restoring voting rights. It includes a state voter registration form and instructions on how to complete it.

Jennifer Lynch is Barker's community corrections officer. She says so far, Barker's the only person on her caseload who has inquired about restoring his voting rights. She hopes more people will register to vote as they find out about their eligibility.

More than a legislative mandate, this work is part of the DOC's new mission to improve public safety by positively changing lives and consistent with one of its new values: Supporting people's success by "understanding individuals, instilling hope, embracing change, and providing opportunities."

"I don't think a lot of people know about it, or are at that point in their lives where it's something they care about," Lynch said. "But these people returning to society are our neighbors and community members, so I think if you can assist somebody in becoming a productive member of society and help them be able to give back and be involved in their community and be successful, it's a good feeling."

At the Seattle Community Justice Center, Reverend Jimmie James of the BEST (Being Empowered through Supportive Transitions) program has partnered with Corrections and the Seattle Foundation to educate people about their voting rights and to help them register. The effort, including an interview with community corrections specialist Cynthia Softli, was recently featured on the Seattle Channel.

"Once people have paid their debt to society, then they should have the right to vote," Softli said in her interview. "If it becomes too difficult for people to figure out how to vote, then sometimes people just give up."

Making Voices Heard

Barker says he's ready to make a difference in his community.

He's attending South Puget Sound Community College to get his associate degree. Afterward, he wants to transfer to a university to earn a Master of Business Administration degree with plans for a career in real estate. He volunteers with a substance abuse recovery program to help himself and others stay sober.

Barker's also written letters to legislators about struggles people with criminal convictions face when reentering society, such as disclosure of criminal records during job screening processes, and finding housing.

"It's important for me to advocate for people's rights who are in the (justice) system. I'm of the belief that if you do the crime you do the time, but once it's paid it shouldn't be a life sentence to prevent you from moving forward in your life," Barker said. "Democracy is the corner of this nation's founding. Your voice matters, no matter how small you think it is. Some people choose not to consent to the system, but we're all affected by it. So why not make your voice heard?"

Watch the Senate Government Tribal and Elections Committee work session and read the transcript here.

Resources:
ACLU Washington pamphlet on restoring voting rights: https://www.aclu-wa.org/docs/voting-rights-restoration-washington-state-0
Washington Office of the Secretary of State webpage on Felons and Voting Rights: https://www.sos.wa.gov/elections/voters/felons-and-voting-rights.aspx
Ways to Register to Vote: https://www.sos.wa.gov/elections/register.aspx
Rachel Friederich is a Communications Consultant for the Washington State Department of Corrections. She earned her bachelor's degree in communications from Central Washington University. She has worked communications and public relations for various Washington non-profit organizations as well as a reporter at newspapers and radio stations across Washington including The Daily World, Yakima Herald-Republic, and KGY-AM in Olympia.
---