>> what's your opinion?
akdocfmf
The Alaska Division of Juvenile Justice (DJJ) does not use the restraint chair for juveniles. 1) Staff would like to have a restraint chair, but the potential for abusing it is obvious. 2) When a juvenile is placed in a restraint chair, staff have a tendency to be less observant. 3) Staff are trained in a Behavioral Management Program known as Handle With Care (HWC) that trains them in verbal and physical aspects of Behavioral Control... view full thread
---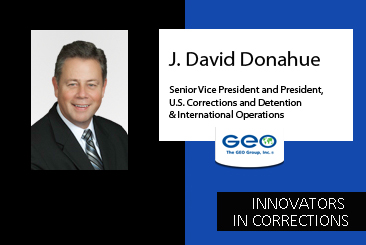 J. David Donahue, Senior Vice President and President of U.S. Corrections & Detention & International Operations with the GEO Group, the largest for-profit prison operator in the $4 billion privatized corrections market, humbly attributes much of his success to divine intervention and supportive management in both the public and private sector. Case in point: One Sunday morning, following bible study at their church, Donahue's wife introduced him to a friend whose father just so happened to be the warden of the nearby federal prison. Donahue was in law enforcement at the time. The pay and work schedule was a strain on his marriage. "The warden was soft-spoken and small in stature," he recalls, "not at all the stereotype of the prison wardens: six-foot-five, barrel-chested, physically intimidating. If anything, he was a buck-fifty in weight and five-foot-seven, with a runner's build. As we parted ways in the parking lot, he suggested, 'Well, why don't you come out to the prison?'"...
read full story
Also this week:
---
Featured Job
Detailed job specifications and applications may be obtained on the Internet at www.eddycounty.org. For those that need any assistance in applying for a position online you can visit the New Mexico Workforce Connection. Also, there is a kiosk computer located at the Eddy County Administration Complex in Carlsbad, NM at 101 W. Greene Street on the 3rd floor in the HR Department, the Eddy County Clerk's office inside the annex building in Artesia, NM at 602 S. 1st St, and the Eddy County Sheriff's Office in Carlsbad, NM at 1502 Corrales Road... >> view full job posting
---
Upcoming Events
Business News
Either I will find a way, or I will make one.


- Philip Sidney