'GO-TO AGENCY': COBRA Unit Prepares Outside Agencies to Handle Dangers of Opioid Crisis
By John Cokos, New Jersey Department of Corrections
Published: 10/22/2018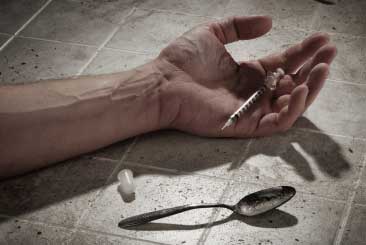 More than 70,000 Americans died from drug overdoses last year. Fifty thousand of those deaths were caused by synthetic opioids such as fentanyl and the even more potent carfentanil.

Dealers from almost every U.S. state promote a continuous flow of these drugs into the country through online purchases and complex distribution networks. On the receiving end is a new era of drug entrepreneurs, fortifying low-quality drugs with cheap and powerful upgrades, ready to distribute these dangerous cocktails to a growing number of Americans seemingly willing to try anything to get high.

New Jersey sees a steady influx of synthetic opioids annually. This year, authorities confiscated 5 million lethal doses of fentanyl during one operation alone. The New Jersey Attorney General's Office reported nearly 2,800 drug overdose deaths in 2017, with synthetic opioids likely responsible for the 24 percent increase in deaths from the previous year.

As these powerful opioids circulate throughout the country, they present a significant hazard to law enforcement. Although the exact risks of exposure to synthetic opioids are still being examined, both the Centers for Disease Control and Prevention and the Drug Enforcement Agency have cautioned first responders of the dangers.

The state law enforcement community continues to ramp up its ability to handle such exposures, and the New Jersey Department of Corrections', Chemical, Ordnance, Biological, Radiological, Aid (COBRA) teams are at the forefront.

COBRA, a division of the Department's Special Operations Group (SOG), has helped to increase the state's chemical response readiness through cross-training exercises with hazardous material technicians from the New Jersey State Police, the Federal Bureau of Investigations (FBI) and, most recently, the New Jersey National Guard's 21st Weapons of Mass Destruction-Civil Defense Team.

"This exercise was an extremely unique opportunity for COBRA members to cross train with one of the leading hazmat teams in the nation," Correctional Police Sergeant Kevin McGowan of SOG's Office of Emergency Management said.

The exercise focused on the planning and execution of a reconnaissance mission after an unidentified hazardous chemical surfaced in a simulated prison environment. The joint teams completed the drill with a run-through of the tactical decontamination process.

Tactical decontamination, one of COBRA's specialized functions, involves the rapid assembly of intricate decontamination stations. The group uses several stages to safely secure weapons, quarantine contaminated gear and decontaminate personnel. COBRA's expertise is considered a significant asset in chemical response training and incident support to the State Police, and the Philadelphia Division of the FBI, which covers Camden, Gloucester and Salem counties in New Jersey.

"NJDOC is the go-to agency for weapons and tactical decontamination," Special Agent Erik R. Negron, FBI Hazardous Materials Team Leader, said after a COBRA training exhibition designed to demonstrate best practices in tactical decontamination to local law enforcement.

NJDOC Senior Correctional Police Officer John McKay, educated local law enforcement officers about the risks of exposure to controlled dangerous chemicals in a variety of scenarios. He also discussed the importance and process of a thorough and systematic approach to decontamination.

"A tactical team is executing a warrant, going into a house doing some room clearing, next thing you know, you run into a chemical lab. How are we not going to bring that stuff home to our kids and our wives and our families?" McKay asked.

Because of the potential stress caused by a situation involving chemical exposure, COBRA team members have different specialties to organize and expedite the decontamination process.

"Guys coming out of a situation are likely thinking one thing, 'Just get me out of here,'" McKay said, "So you have somebody to help you every step of the way, if necessary, from firearms to electronics to tactical gear."

Police canines are particularly at risk for inhaling synthetic opioids, so COBRA incorporates canine decontamination in its incident response planning. "NJDOC has 26 dogs and 13 handlers, so we train a lot with them," McKay said. "We have to decon that dog if he gets exposed to something, so we have a canine shower and special handling practices."

COBRA currently has three teams assigned to the southern, central and northern regions of the state. They advocate interagency communication and training to encourage statewide readiness for hazardous materials response and to help smaller agencies without specific hazardous material teams to develop their own plan of action.

"We're in an age where we should realize we can't do everything ourselves," McKay said. "We have to reach out and start encouraging mutual aid. You don't know when or where you'll come into contact with [hazardous chemicals], so you want to have that hazmat asset in your command post."

John Cokos, a former Navy Mass Communication Specialist, began working for the New Jersey Department of Corrections' Office of Public Information in May 2018.
---