Corrections Isn't for Everyone
By Corporal William Young
Published: 08/13/2018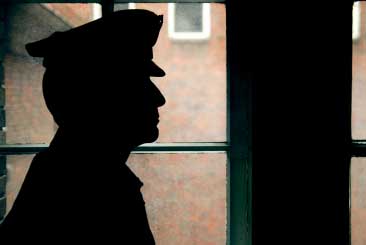 We can be ridiculous. We are a collective of emotionally numb, hyper-cynical, self-isolating, institutionalized individuals. We minimize the seriousness of what we do, and project our insecurities and our fears onto our peers. We complain and we curse and we criticize and we refuse to admit that these walls, that this environment has anything to do with any of it.

Not only do we NOT acknowledge the fact that working in a correctional facility can have a negative effect on us both physically and emotionally, we mock those of us that are suffering from the weight of working inside the walls. We see our peers walking wounded through the halls and we do nothing. We stand by and we watch as they self-destruct, and our words of wisdom, our only offering, is that "Corrections isn't for everyone."

Okay, let's try this. Let's see if this seemingly infallible philosophy is applicable to other professions.

Mrs. Smith is a second-year fourth grade educator at the local elementary school. She loves teaching and working with the children, and watching the little light bulbs come on when they finally grasp those pesky common-core mathematical concepts. She loves the interaction and laughter and singing and the innocence. So, one day, we'll call it a Tuesday, one of Mrs. Smith's students, we'll call him Johnny, shows up to class looking like he hasn't slept in two days. His hair is greasy and dirty and his clothes are in disarray. Upon closer inspection, Mrs. Smith notices that little Johnny has a large bruise on the left side of his neck and several large scratches on his arms. When she questions him, little Johnny tells her that his Dad got upset with him for spilling his special Iced Tea.

Mrs. Smith is mortified. She runs to the Principal's office and demands that something be done immediately. The tenured Principal under-reacts, and tells Mrs. Smith to have a seat. Mr. Principal explains to Mrs. Smith that throughout her career as a teacher she will see many children like little Johnny, and that there isn't much that they can do about it other than place a call to Child Protective Services. He goes on to say that sometimes Dads drink, and sometimes those drunk dads will beat on their children, and that's just the way it is.

Mrs. Smith loses her mind. She starts to cry as her emotions overtake her. She explains that this is not what she signed up for, and that she became a teacher to help children learn, not to stand by and do the minimum as they get abused. Mr. Principal says that he appreciates her passion, but wants her to understand that this stuff does happen and that if she can't handle it maybe she should look into a different profession. Mr. Principal smiles, shrugs his shoulders, and tells her that teaching isn't for everyone.

So, because Mrs. Smith struggles with the fact that one of her students is a victim of child abuse, we suggest that she seek employment elsewhere. We ignore the fact that she is a normal person having a normal reaction to something she has never been exposed to, just like we ignore the fact that our fellow Correctional Officers are normal people (in the beginning of their career, that is) having a normal reaction to something they have never been exposed to.

Look, we all know it takes a unique skill set to survive for a long period of time in our line of work. It doesn't matter what you thought you were prepared for. All of that goes away when you hear that door slam shut behind you.

It doesn't matter what you watched on A&E about addiction, or what your final grade was on the paper you wrote for your English Comp 2 class. Nothing can truly prepare you for the first time an inmate threatens to have your family murdered while you are at work. No lecture from a college professor can prepare you for the first time you watch a grown man defecate on the floor of his cell and then swaddle his feces like a tiny newborn baby. Nobody, outside of these walls knows what it's like to watch that grown man carry those feces around his cell for an entire shift while he sings the exact same lullaby that you sing to your children before you tuck them into bed. We shouldn't shun our peers or show disdain to them because they are not okay with things that are not okay.

No, I'm not asking for you to coddle or cosset your fellow Officers. I'm asking you to look back on the first time that you were threatened. Think back to the first time that you responded to an attempted or a completed suicide, and how you felt in the days succeeding that incident. I'm asking you to remember the sleepless nights and the adrenaline dump and the excessive indifference of your peers around you.

I'm asking you to share your experiences and your "war stories" with other Officers. We always talk about the Training Academy and how you can't learn to do the job in a classroom, right? Well, talking to each other is a fantastic way to learn the job. So, let's discuss with them the possible things that they may encounter during their career. Let's share healthy survival techniques with them, so that they can employ them should the occasion occur. And let's be accessible to them. A lot more accessible than people were to us when we were struggling.

This article as been reprinted with permission from the July 2018 Issue of Correctional Oasis, a monthly e-publication of "Desert Waters Correctional Outreach".

Corporal William Young is a 13-year veteran of the Douglas County Department of Corrections in Omaha, Nebraska. Battling Corrections Fatigue himself, Officer Young is determined to assist his fellow brothers and sisters by helping them identify, manage, and reverse the damaging side effects and symptoms of working in such an environment.
---