When Home Becomes a Housing Unit
By Corporal William Youn
Published: 04/09/2018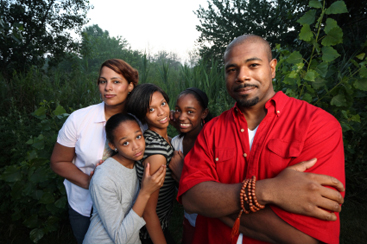 You look at the clock on the microwave and let out a huge sigh. You sigh because you only have twenty minutes until it's time to throw on your uniform and head to work. You sigh again and make your way back to the couch. It's a beautiful comfortable oversized sectional that allows you and your entire family to spread out on the rare occasion that you and your entire family are all home together at the same time. The remote control is missing as usual but that's okay. You're not really concerned with what's on, you just want to sit there and stare at the TV for twenty minutes before you have to go.

At some point during one of the commercial breaks, six or seven minutes after you sat down, your teenage son ascends from his basement bedroom with several days' worth of dishes. He takes them into the kitchen and tosses them into the sink that your wife just finished cleaning. Before he makes it back to the basement your wife looks up from her laptop and tells him that he needs to go back into the kitchen and wash the dishes that he just threw in the sink. Instead of complying, instead of just walking back into the kitchen and cleaning up after himself, he starts an argument with his mother.

You heard the exchange. She asked him to clean up his dishes and he decided to be a teenager, and eight minutes after you sat down, the argument about the dishes turns into yelling about the dishes. You try hard to focus on the images on the TV, but you can feel your blood start to boil. You tell yourself not to freak out. You tell yourself that you are just going to sit here for twelve more minutes until it's time to start getting ready. You tell yourself that, but nine minutes after you sat down, you are pulled out of your semi-catatonic state and you EXPLODE.

You raise your voice and start issuing verbal commands like you are clearing a dayroom full of inmates. You ignore the details of the argument because the details are not important to you. What's important to you is that your twenty minutes of peace and quiet has been interrupted. You order all parties involved to explain the source of the problem knowing full well that you don't really care what the source of the problem is. You half-heartily listen to both sides of the argument and treat all parties involved like they are guilty, because to you they are. They are guilty of disrupting your quiet time.

Ten minutes after you sat down the argument has become a fight. It becomes a fight because your wife calls you out on the way that you are handling the situation. She says that you are acting like she is on the same level as your teenage son. She says that you always do this. She says that you never back her up when she disciplines the kids.

Eleven minutes after you sat down you're up off of the couch and you're in full CO mode. You respond to her screaming, but your responses are emotionless, generic, and calculated. Your tone is calm and condescending. You stand stoic while she loses her mind. She glares at you and tells you to stop talking to her like she was an inmate.

Now you get mad. But you don't get mad because she's wrong. You get mad because everything that she said about you is right.

You're mad because instead of enjoying twenty minutes on the couch before work, you're locking horns with the love of your life because YOU didn't react appropriately to the situation. You glance at the clock on the microwave, and now you're mad because you're not going to have enough time to finish this argument. You'll have to walk away from the fight and leave things unresolved because it's time to go to work.

So, forty-one minutes after you attempted to sit down and enjoy some TV, you climb into your truck and head to work thinking about all of the stupid things you said to your wife. You feel like you probably should have called in sick so you could have stayed home and begged for forgiveness. But you didn't, and now you get to think about it for the next sixteen hours.

Sixty-seven minutes after you sat down on your beautiful comfortable oversized couch, you pull into your facility's parking lot on the verge of tears wondering why you act the way that you do. You wonder if this argument is the one that will push her over the edge. You grip the steering wheel and close your eyes. You want to text her. You want to send her a quick message to let her know that you realize you screwed up and that you love her and you'll work on it. You want to but you don't. You don't send the message because you know she won't respond and that will make you feel worse than you already do.

Now what? Well, this would be a great time to follow that excellent advice given to you by a veteran officer shortly after you started your career. Just leave work at work and home at home, and you'll be fine. Right? WRONG!

I'm not going to tell you that we need to "leave work at work and home at home" because, to me, that is that most ridiculous advice that one officer can give to another officer. What I am going to tell you is that you can't expect a spouse to stick around for very long if you treat them like an inmate. I can tell you that, if you continue to be overly aggressive in group settings, your friends are going to stop inviting you to their get-togethers. And I can almost guarantee that if you snap at your kids every time they come to you with a question, they will stop asking you questions, and you will spend a lot of Christmas's alone wondering why your children don't come around to visit you anymore.

Look, as Officers we need to understand and recognize that Corrections Fatigue is real, and that it plays a huge part in the way we deal with "normal life" situations. Because we are in a constant state of hypervigilance and because we are emotionally and psychically drained, we may not react appropriately to arguments about the dishes or the discussion about what we want for dinner.

We also have to have realistic expectations of those around us. Teenage sons are going to argue with their mothers about doing the dishes, and mothers are going to shout at their teenage sons for arguing with them about the dishes. So, just because we are tired and stressed and institutionalized does not mean that we can say and do whatever we want to whoever we want. So, no, we don't talk to people outside of work like we talk to inmates, because, honestly, at times we show more respect to the inmates than we do to those closest to us.

Lastly, be open and honest with those that you love the most. Communicate your stressors, your fears, your dreams, and your desires. Without communicating they will never understand the sacrifice that you make for them on a daily basis.

So, when you feel yourself getting worked up, take a couple of deep breaths, and think about what you're going to say before you say it. If you can't do that, maybe you should put a TV in your bedroom, and hang out there before you get ready for work.

This article as been reprinted with permission from the March 2018 Issue of Correctional Oasis, a monthly e-publication of "Desert Waters Correctional Outreach".

Corporal William Young is a 13 year veteran of the Douglas County Department of Corrections in Omaha, Nebraska. Battling Fatigue himself, Officer Young is determined to assist his fellow brothers and sisters by helping them identify, manage, and reverse the damaging side effects and symptoms of working in such an environment. The agency for which he works is not in any way responsible for the content or accuracy of this material, and the views are those of the contributor and not necessarily those of the agency.
---